Stylish Organizing Ideas For Your Homes
Usually, when we talk about interior design, we talk about the aesthetic aspects of it. Ideas like exactly how to accomplish a particular appearance, which decorating style you ought to imitate, new style fads
that you should check out and how to keep your house looking beautiful through stylish organizing ideas.
A concept that's not always thought about is the impact on your subconscious. Think about it...The choices that you make when determining just how your home works & operates will undoubtedly have an impact on your feelings and also understanding of the members of your household. We all know that having a messy, disorganized home can make you feel overwhelmed, tired, and anxious but did you realize the shade of the walls in your kitchen may also be adding to your stress and anxiety while trying to get dinner on the table or the lack of mixing of colors in your living room can lead people to think you are indifferent.
This is the impact of the psychological side of decor.
Color selection affects your mood
It's no surprise that the shades we select are a significant component of just how we experience the environment around us. The reality that the shades in our environment have a conclusive result on our moods and feelings. As you start to conceive your home's interior design, make sure that you are using colors in ways that fit with the tone you intend to create in the room as well as the experiences you want to create there. Modern shade psychology dates its origins to the early 19th-century when Goethe released his publication, Theory of Hues. Though there is some dispute regarding the implications of specific tones professionals from interior architects to heads of marketing agree on these concepts.
Red
Red symbolizes power and also enthusiasm. It can be made use of to warm up spaces and also make them feel a lot more intimate. This is a great color for areas of great activity and intimacy but needs to be used in moderation or with colors that balance out its heat!
Orange
Orange offers a jolt of energy and innovation and happiness. It's best utilized as an accent because too much can leave people feeling overwhelmed. I love this as a color for entryways and offices where you are looking to experience the benefits of its warmth & energy.
Yellow
Yellow is related to joy, development, as well as imagination. It functions well in mix with a relaxing neutral and in areas with lots of all-natural light to produce a peaceful setting. Equally good in living spaces as well as bedrooms, especially for children, this color literally makes you feel "sunny".
Green
All shades of green are famous for high soothing qualities. Green is an excellent option for an entrance hall, dining room and living spaces because it reminds of the Outdoors
Blue
As the color of the sky and the ocean, Blue transmits feelings of tranquility and also freshness. It's an excellent fit for high traffic areas like bathrooms and kitchens.
Purple
Purple denotes nobility as well as luxury. Purple is an excellent selection for a living room or bedroom because it adds an air of lush sophistication and glamour (something we specialize in as you can see from the main page of our website AshleighUnderwoodDesign.com)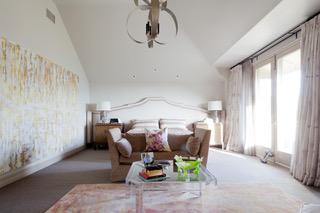 Gray
It provides a feeling of leisure and peacefulness. Grey is a great alternative to white in many spaces throughout the house.
Brown
Like Green, this natural-color (literally has) roots which offer a relaxing touch. Although not my favorite color, especially for walls, Pick it for rooms where the household gathers and also furniture that will incite conversation.
Black
Black is an assertion of power. Use black for statement items that you wish to draw the eye. Lamps, accessories and area rugs are fantastic and if you are really brave, paint your walls black for an instant pop of color wherever you have art on the walls. For inspiration check out one of the most inspirational homes I have ever seen. The Black Apartment https://www.youtube.com/watch?v=YpN6fRQh1f8
White
White is associated with a feeling of expansiveness, tidiness, and pureness. It is terrific for an entire room, but make sure to use white together with various other shades given that excessive use feels sterile.
Remember, when you select which colors to utilize in each room, use the 60-30-10 rule. Make three choices, select a foundational color for the most significant thing like walls, a balancing a calmer color for furniture and then pick a third more significant shade to create a pop.
ARE YOU ON INSTAGRAM? CHECK ME OUT @ashleigh_underwood_design
OR
JOIN ME IN THE SOUL SPACE REVOLUTION http://bit.ly/SoulSpaceRevolution